The YWCA of the Niagara Frontier opened Carolyn's House in 2005, providing 19 apartments with on-site support services for women and children.  Carolyn's House is designed to empower residents to transition from homelessness to a dignified, safe future. Most women and children entering Carolyn's House have experienced trauma including domestic violence and/or sexual assault, financial challenges, substance abuse or incarceration. Supportive housing services at Carolyn's House (including employment and training, case management, counseling, financial literacy etc.) give women in crisis the time to develop skills and increase their confidence and allow for a safe and successful integration back into the community. Over 500 women and children have found refuge and a path to dignity over the last 15 years at Carolyn's House. Carolyn's House was named in memory of Niagara Falls Community Advocate Carolyn Van Schaik who assisted the YWCA in applying for funding for the adaptive reuse of the historic building now housing Carolyn's House.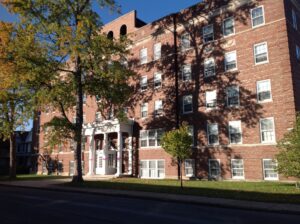 Services
Carolyn's House provides apartments ranging in size from 496 square feet to 1261 square feet to suit most family compositions. The heat is included in the monthly rent and the resident is responsible for their own electricity and security deposit.
Monthly Rental Amounts
Studio/One Bath – $285.00/mo
One Bedroom/One Bath – $314.00/mo
Two Bedroom/One Bath – $400.00/mo
Three Bedroom/Two Baths – $460.00/mo
Amenities
Two Laundry Areas
Community Room
Youth Room
Secured Outside Playground and Picnic Area
Herb and Vegetable Garden
FOR MORE INFORMATION OR TO APPLY, CALL 716-433-6714 x218.
Carolyn's House is always in need of donations:
If you would like to donate, please contact the YWCA at 716.433.6714 for items needed.